Contact: Tammy Doney FOR IMMEDIATE RELEASE
386-236-2380 Date: June 13th, 2015 Updated: May 16th, 2016
Tammy.Doney@Gileselectriccompany.com
Daytona Beach, FL – Nine students from the Daytona Beach Electrical Joint Apprenticeship and Training program (JATC), otherwise known as the Don Morgan Electrical Academy, graduated last month and walked with their caps and gowns alongside Daytona State College graduates, a first that anyone in the program can remember. Graduates will be awarded a vocational certificate of completion from Daytona State College (DSC), while the Florida Department of Education will award the apprenticeship completion certificate.
Scott Jarvis has been the Training Director for the JATC since 2006. He also graduated from the program in 1989 and currently oversees five instructors along with the 40 to 50 students attending the apprenticeship classes. "We are so proud of these graduates, they have dedicated four years to learning the trade and working 8000 on the job hours and 900 classroom hours each," said Jarvis. "Students attend program classes at night and all work for our local Signatory Contractors during the day, so it's no easy task," he added. Jarvis said that the program receives 70 to 80 applications each year, and accepts between 20 and 30. The attrition rate for students is around 50%. Out of the nine current graduates, four students are performing small jobs by themselves already. This year, one female student was among the graduates, something Jarvis said he has not seen since 2010.
"Many people don't realized that the average electrician makes $5,000 a year more than the average college graduate," said Byron Overstreet, Vice President of Giles Electric. "The country is going to need a lot more skilled tradespeople with the baby-boom workers retiring, leaving openings for millennials," he added. According to a recent interview on NPR with Anthony Carnevale, the director of the Georgetown University Center on Education and the Workforce, there are 600,000 jobs for electricians in the country today, and about half of those will open up over the next decade.
Four of the graduates have jobs lined up at Giles Electric, and the remainder of the graduates will continue their work with other local electrical companies. Some past graduates have been employed locally with the school board, cities, and council electrical divisions and electrical construction contractors.
Giles Electric Company's home office is located at 1700 S. Segrave St. in South Daytona. They can be reached at 386-767-5895, or online at www.GilesElectricCompany.com or https://www.facebook.com/gileselectriccompany.
# # #
About Daytona Beach JATC
The Daytona Beach Electrical Joint Apprenticeship and Training Committee became a 501 C3 non- profit in 2006 and began doing business as the Don Morgan Electrical Academy. The International Brotherhood of Electrical Workers – Local 756 began its Charter in 1936. The first official graduating class held their graduation in 1961, and since then thousands of students have graduated and went to work performing electrical work wiring industrial plants, factories, warehouses, office buildings, colleges, shopping centers, homes and have been involved with most of the work at Kennedy Space Center. Their goal is to attract college bound students offering the apprenticeship and degree at the same time. Art Giles, founder of Giles Electric, got involved in 1974 volunteering, utilizing, and employing apprentices from the program. Don Morgan was Art Giles very first journeyman. The journeyman program is sponsored by 11 local employers; Masters Electric Co, Palmetto Electric Co, C&R Electrical Co, Electric Solutions Unlimited, Electric Tech Services, Browns Electric Co, SDB Engineers & Constructors, LCS Electric Co, Breakers Electric Co, Pascoe Electric Co, and DSC is the sponsoring educational entity. The tuition to students is free. Classes start every August at the Advanced Technology Center in Daytona Beach, and there is a preliminary eight-week boot camp that involves tool identification, tool safety, pulling wire, conduit bending and more. Those interested can apply online at http://www.electricalcareer.net, or stop by 5901 S. Williamson Blvd. in Port Orange, Florida at The Don Morgan Electrical Academy Monday through Wednesday from 9:00am to 5:00pm. The application takes about one hour to complete.
About Giles Electric Company, Inc.
Giles Electric Company, Inc., founded in 1970 by Art and Barbara Giles, is a full service electrical contracting firm specializing in the installation and maintenance of electrical systems for Commercial, Industrial, Governmental, Institutional Facilities, and Residential Homes throughout the State of Florida. Their green initiative provides a streamlined process that guarantees energy consumption savings. Today, under the leadership of Brad Giles, the company continues to provide innovative and cost effective electrical expertise to homeowners, contractors, architects and engineers in both the design/build and competitive bid markets. They are proud to have earned the Daytona Beach News-Journal's Reader's Choice award and the Hometown News Reader's Favorite award, and the WNDB Top Pick award. License number EC0001538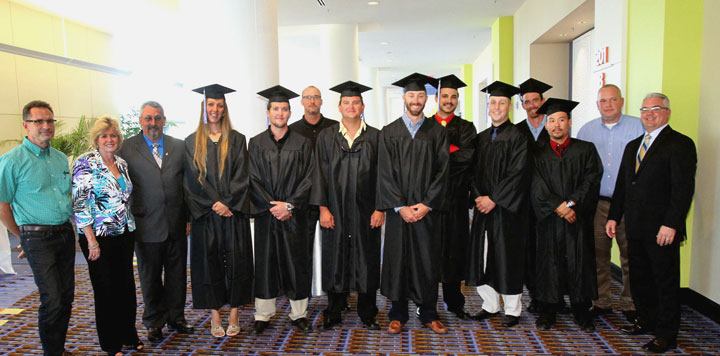 Pictured from left to right.
Jerry Masters, Mary Bruno, Scott Jarvis, Aubri McIntire(Palmetto Electric), Garrett Deese(Pascoe Electric), Dan Hunt, Matt Cole(Masters Electric), Stephen Phoenix (Giles Electric), Kyle Garred(Palmetto Electric), Nick Thornhill(Giles Electric), Richard Nelson(Giles Electric), Kenichi Obama(Giles Electric), Byron Overstreet, Brad Giles.